The technique of holography enables images of three dimensions to be possible. This would involve the usage of diffraction, interference, recording of light intensity along with a suitable recording of illumination. The overall image can go through a change as orientation and position of viewing system would change in the same manner as when the object still becomes present, this would make the image go three dimensional.
LG Stickers of hologram labels can offer authentication marks for which duplication becomes impossible. One of the well-designed stickers for hologram offers the ultimate security of simple and unique verification. Apart from becoming efficient in cost, the hologram sticker can also become quite eye-catchy. Holosafe would offer solutions for hologram through a wide product range for catering to certain requirements of all customers.
Holograms are "high-tech optical laser-recording" of 3D (dimensional) images. This would be helpful for bearing a lot of impression layers of customized artwork. In addition to higher security features that can demonstrate a lot of images that get reconstructed as a single image. Holograms get complete depth and parallax of the field because of higher light refraction. The images can float well behind in space or/and in front of the 2D medium of recording.
A lot of cross image sections become seen along with various directions that are viewed at the right light angle. All dramatic effects in the hologram label can appear "real" as the vibrant motion, images and colors are present at various depths.

Why the product must have hologram?
A lot of money would develop risk for loss of sales when you're not providing protection for the product in an adequate manner.
The company reputation would be quite at a stake when another company simply gets product duplication.
This is one fraud-preventive authentication and security procedure vital for different companies.
Discussion
Holograms for security are mainly designed for combatting against counterfeit products. The distinctive optical properties for diffracting light while creating virtual 3D effects remain impossible for copying through the use of a photocopier and scanner.
Holograms are deterrent for counterfeiters. As holograms can be required for specialized technology and equipment for making, the counterfeiters generally avoid products that get hologram protection.
Holograms can be validated without much taking much time due to their optical properties that distinguish them from others.
Labels for Holograms can simply create an attractive and unique complement for the current product and its packaging. According to the research conducted consumers can perceive more product value that is protected through holograms. Consumers mainly believe that the manufacturers using holograms would be able to care about product quality that they are producing.
Note: These holograms are tested and designed for anti-tampering, anti-counterfeiting, along with promotional applications. The holographic products are not ideal for providing any medical benefits that have been documented. According to our opinion any claims regarding medical benefits are unsupported and questionable. All consumers must request independent clinical studies (additionally to blind testing) for verifying all associated medical benefits.
Normal Applications Meant for Security Holograms

The following would be a list of current hologram applications that are used in the world. This would be intended for showing hologram prevalence as proven methods for combatting against making counterfeits and authentication of the product.
Different types of projects require different holograms where security requirements range from lower to higher security. Lower security projects typically require stock hologram. As requirements for security increases, further customization is also required that include custom imprints, serial numbers, hidden features for security, custom images for hologram, etc.
With continue in the counterfeit rise of products that are branded, a lot of corporations require custom holograms for the protection of corporate images and the brand.
Hologram Features and Benefits

This can be helpful for combatting counterfeiting
This can't get scanned optically through the computer
Reproducing through photocopier can't be done
Higher Brand Sales
Better appeal for packaging
Has brand awareness for a consumer
Selecting the perfect hologram for your requirement
There are a lot of varieties available for holograms in the market according to different requirements. For the selection of the right product hologram for the specific application, around 4 min criteria can be considered.
Budget
Functionality
Product timing
Security
1.Budget
For lesser hologram sticker quantity, the best affordable choices would be customized imprinted labels
Holograms meant for collectibles
Silver Hologram Stickers
Transparent Holograms
Color Hologram Stickers
Discounts for pricing can begin at around 25,000 labels. You can try special pricing for any stock with custom orders of around 25,000 labels or higher ones.
If the order quantity remains more than 100,000 labels of much higher for the year, the best possible solution should be customized hologram label. However, with custom hologram images you get expenses that are at initial levels, or for projects of higher than 100,000 labels in a year, this would be often lower-cost options for the long term. Most projects consisting of higher than 250,000 labels per order, the custom image would be having low costs.
2.Functionality
Colors for Labels
Normally you get transparent and silver metallic materials meant for holograms. These are also available for backgrounds that are color metallic.
Evidence for Tamper
A lot of holograms for product security are constructed for tamper-proofing. After applying it initially, if you lay any attempt for removing the hologram sticker, it will result in the destruction of the whole hologram image.
Varieties of Labels
For holograms, there are lots of shapes and sizes. These can be altered with custom demands.
Custom imprints
For holograms, the following services are available for printing
Serial numbers that are matching
Consecutive serial codes and numbers
Logos and Texts
Multiple or Single Colors
Bar Codes
Hidden ink that visible with the availability of backlight UV
Optional Labels that are laminated
For customized imprints meant on stock holograms, the standard procedure would to print logos, custom texts along with serial numbers mentioned on the label surface through the use of thermal transfer resin ribbons. All thermal inks remain durable for scratching, mechanical abrasions, and a lot of liquids. However, inks that are thermal printed are ideal for removal in certain solvents like alcohol, gasoline or various lotions that contain alcohol.
For the maximum durability of imprinted texts, it would be best to recommend labels that are laminated including clear film over imprint. It would be recommended to get laminated labels for all such applications.
Hidden and covert security features
Serial numbers, text, and logo are printed along with invisible ink that is visible through UV-back light, and hidden hologram texts require magnification for reading
Hidden images are available for hologram that is readable only through lasers
Invisible hologram taggants can be readable through machine
Optional coding for color
All radiating color labels for holograms can be selected in a lot of background colors.
Stock images can have custom imprints in different colors
Custom colors for the background are also available
Optional varieties for bar codes
Bar codes can't be read on top of transparent holographic images along with silver metallic ones. However, getting an appropriate bar code located on a whiter background on a hologram label would be ideal for readable bar codes.
3.Timing when you require material
Custom holograms those are imprinted
Customizing stock hologram while imprinting logo, custom text or serial number would typically require around five business days. However, such products would be available with optional services like RUSH.
Express Holograms
When you require material for the same day, you can notice stock hologram stickers. All such holograms can be available in same-day express service. It's best to place an order after 2 pm EST along with holograms that are shipped on the same day.
The stock transparent holograms can also be available for immediate shipment without customization requirements.
Custom Holograms
Creation of customized hologram image while later on producing custom labels would typically take around 30 calendar days after ordering. The optional RUSH service would also be available (you can call for details). The orders of custom label holograms would be produced by 2 weeks.
4. Amount of Security
Applications with low security
With products that require a security level of almost little to zero, having any type of hologram would do the job. An efficient choice can be stick hologram stickers without the availability of custom imprints, especially for around single-time events with the use of generic hologram stickers, which would be also helpful for selling to other users, as it would also provide appropriate security. Additionally, the customized imprint would not be required for custom stock transparent holograms, which would be ideal and affordable options as well.
Holograms for products with higher security
The best possible security to have would be to create a custom image for the hologram. In such a case, the logo/text of hologram would be integral to the holographic image. Although for custom hologram image you would need to have higher initial expenses, for projects of more than 100,000 labels in the current year, this would often remain as the low option cost for the long term.
Other options for security enhancement
Using micro texts and hidden images
Authentic and genuine stock labels are available with two main security features that are hidden: hidden image (viewable through laser pointer) and a micro text (viewable through magnification). For the knowledge, this would be only stock hologram images in the industry with hidden images and hidden micro text that can be read through a laser pen. The image would require custom imprint and can typically ship by 5 days (optional RUSH service would be there). Either of such optional features gets included for the custom hologram.
Advanced customization
Most hologram label tags remain custom imprinted in addition to custom text, serial numbers, logos available in multiple or single colors. Hidden ink or silver holographic ink holograms are also available that are only visible while using UV backlight. All these features are ideal for enhancing the overall security of the custom or stick hologram image.
Invisible taggants for authenticity
To verify the authenticity of custom holograms a lot of hologram manufacturers provide taggants that can be read through a machine. The naked eye can't see these taggants, but these can be read by machine for reliably and quickly authenticating and identifying all products.
Fluorescing Ink
Among other unique features such as serial numbers along with stock images would be ideal but an additional hidden feature for security that can be added would be ink that is UV fluorescing. The image would be available on same-day express services and wouldn't require further customizations. The feature can also be available as custom imprints on custom hologram or any type of stock.
Different changes
With changing features the product gets higher security - changing background colors, changing serial number color, or changing serial number format, etc.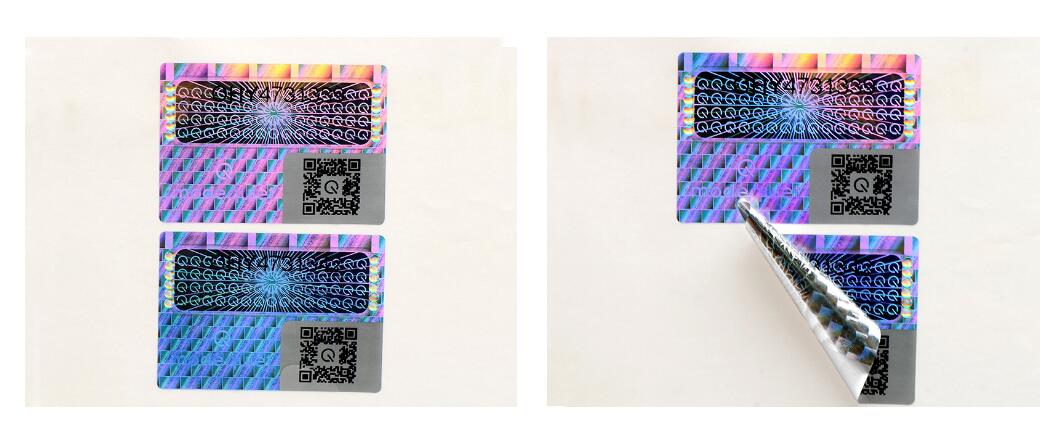 The use of Holographic Labels
Label companies ideally develop customized holographic labels that are required for different industries around the world. All these hologram label stickers are ideally usable as:
Holographic Barcode Labels
Holographic Warranty Labels
Holographic Pharmaceutical Labels
Anti-Counterfeit Labels
Holographic Cut Labels
Customized Holographic Labels

Labels for Anti counterfeits - All these labels are tamper-evident that would convey any attempts for removing or transferring label. This is helpful for designing and customizing labels accordingly with the requirement. Vital information is placed on a label that would evidently depend on label size along with data volume.
Applications of these labels can be seen in different industries such as
Automotive, FMCG, apparel, education, fittings and pipes, pharmaceutical and other government products and electronics.
Hologram cut labels
A lot of label manufacturers can specialize in the manufacture of custom cut labels along with design fused edge for cutting labels in various sizes and different available colors. Holographic cut labels along with backing sheets are available for providing them with base for supporting labels and these also sustain from getting them damaged. Cut Holographic labels are useful for manufacturers for keeping the product intact from the counterfeits and the label also safeguards the brand. These labels can fit well into containers of different packages and sizes.
These are used in Pharmaceutical companies.
Barcode Hologram Labels
A new and innovative concept is the use of barcode labels accompanying the holographic effect. The customized holographic image would be ideal for self-adhesive printed labels along with various other features meant for traceability and security. The barcode gets integrated with holographic splendor, the sequential number gets printed through thermochromic ink or invisible ink for making it highly secure and attractive.
These types of labels are mainly required for product packaging and for imparting essential information such as manufacturing details, brand owner, serial numbers, barcodes, etc. additionally, with such labels you're also able to track goods, also helping in keeping a quality check on the product.
Due to the complexity involved in the overall process of manufacturing such labels can't get duplicated.
Pharmaceutical Holographic labels

Holographic Pharma Labels are specifically designed for immaculately sealing pharmaceutical products. All these labels are made by employing highly advanced techniques of printing.
Therefore, these are printed through the use of high definition machines along with high-grade printing materials.
Also, necessary measures are taken for designing such labels as per specific requirements. Also highly advanced laser technology is used that counterfeiters can't duplicate. For such holographic images all sequential steps are checked for quality control points so no mistake can be committed at different steps for manufacturing pharmaceutical labels.
These are used on a large scale in pharmaceutical industries
Essential Security Features of Holograms
By normal security features for hologram, we can say that these are the best security systems available for providing authentication and safety for the products. All these would virtually make it impossible for documents and products to get counterfeit, copied and tampered. The latest available raw component high grade and laser technology would be ideal for fabrication of various holograms. Due to such reasons, all these features would emerge like cost-effective solutions for different industries, private offices, and banks and government sectors.
2d/3d Elements
With the means of 2D/3D techniques for master shooting, 2d/3d elements remain to incorporate advanced equipment like an optical table, silver coating, laser power controller, He-Cd laser and various other related technologies. All such elements are comprised of layers of two-dimension having images along with all information.
For two colorful images there would be great depth along with 3D depth. Thus, such elements would be fabricated through the use of premium grade components through technology and high-end machinery.
Switch/ flip flop elements
With the display of two images at a time, switch elements/flip flop elements provide a different viewing angle. All these are fabricated through the use of contemporary technology and premium grade components. On image movement in different angles of viewing from the horizontal to vertical side, one would notice changing images evolving within the hologram. This common flip flop effect typically gets manufactured through different angles of exposure from the laser beam. Such elements are ideal blends of different 2D and 3D effects that comprise of layers back to back.
Kinetic Elements
These are mainly recognized through various color separation twinkling effects, Kinetic elements get procured through either the use of 2D/3D or techniques of dot matrix metering. 3 different angles are present for viewing through which images are seen in sequence and this also includes graphical HD elements. Moreover, all such elements would be ideal for offering rotation or illusory zooming effect and these provide shine for upper hologram surfaces. Through the use of premium component grades along with the latest manufacturing techniques, such elements can surpass various quality checks for ensuring reliability.
Features:
Use cutting edge and innovative technology
Have a zooming effect
Shiny surface
Holographic label Features
For hologram label the use of the latest technologies is made by skilled experts and a lot of precaution is for making sure that there are holographic logos and various other contents are present in it:
Unique/Exclusive
Premium Quality
Strong Adhesive
Water-Resistant
Attractively Patterned
Visually Appealing
Superior Finishing
Tamper proofing
Can't be replicated
Customizable
Heat Resistant
Containing Eye-Catching Color Combinations
Everyday products that are used for these
All these labels are nowadays commonly found in lots of products nowadays. There are a lot of items for which we find such labels on:
Gift Vouchers
Appliances
Tin Boxes
Utensils
Boxes of mobile phones
Kid's toys
Plastic items
Industry Usage
Nowadays, holographic labels can majorly be used in different industries. There are a lot of ones that you can cater to after listing them below:
Defense
Banks
Education
Pharmaceutical Industries
Defense
Beverage and Food industries
Paint industries
Automobile industries
Chemical industries
Banks
Government
Equipment and appliance industries
Electronic Industries
Glass Industries
Metal Industries
Plastic industries
Hardware industries
Toy industries
Machine industries
Blister industries
Why Holograms are preferred?

Additionally to the reason for counterfeiting, there are a lot of other reasons due to which holograms are the first choice of many local and larger international brands as well. Almost every industry nowadays relies on these for authenticity.
These can't be duplicated easily and these are not possible to copy through the means of any printing technology
Conventional tools used by counterfeiters don't work well for holograms.
Hologram production can be said as technical, expensive and time-consuming process.
Holograms have been proven worthy of being as most reliable technology yet for combating duplication.
Skills and equipment are necessary to create a hologram can't be obtained easily.
Enhances the brand image and also recalls
Customers get improved confidence
Adulteration and pilferage can easily be stopped. The brand can be authenticated along with products.
All Security features of Hologram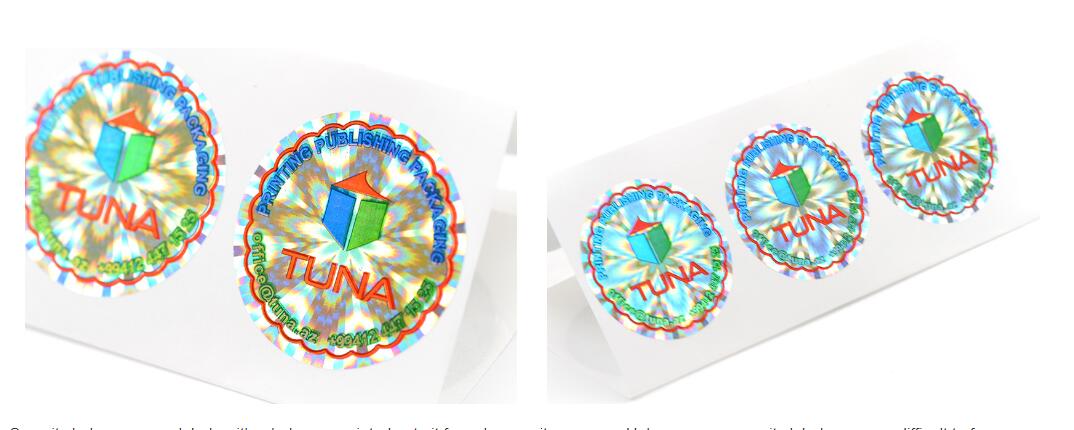 Flip-flop image/switching effects: At static positions there are a lot of texts/images visible at static positions where the hologram gets tilted from 0 to around 180 degrees for viewing axis.
Nano Text: By Nano text we mean a micrometer's million. With the help of a microscope the text can be seen.
Concealed pattern/ text: With the help of certain text and image are only properly inclined to a certain angle.
Line/Polygon/ Pattern/ Dot Matrix: Text/image can be converted to pixels (more than 12000 pixels in an inch). The shape of the pixel would be dot polygon or line added to a pattern making it among the best hologram security features.
Morse Text: Such effects are also called pattern lines, and with the help of special film people can see the hidden text.
Channel Effects: This is quite similar to Kinetic Effects but any patterns or effect lines won't be visible.
True Color 3d Stereogram: Real 3d images have more than 80,000 colors that you can observe through different angles.
Raster image: Such an image gets restriped inline matrix or dots
Effects of Zoom: Images and Logos decrease or increase in the radial form
Animation: By this, we mean patterns in an animated form such as butterflies, flying birds or various logos available in dynamic and static positions
Guilloche Effects/ complex geometry: These can be said as curves/ pattern lines similar to linear deflection in complex forms of geometry.
Gradient Effects: All these animate colors with different color shades
Curve/Higher Resolution Line: Such Line/ Curve of the higher resolution remains visible
Animated Text Laser viewable: Certain images and texts can be viewed in the form of animation through a laser scanner upon moving in the direction of the hologram.
C.L.R (Computer Laser Readable): Certain texts/ images can be visible while the laser beam would be deflected from hologram to white surface.
True image (2D): All images get recorded in true images with a scale rating of a minimum of 256 colors shade. This would be impossible to counterfeit unless counterfeiters have access to real image at the time of the shooting.
Binary Text (200-50 Micron): All images and texts get hidden and can be read through a magnifier of a power that is 15 times higher.
3d/Model: Exactly it is model replica where another view from where you can view the X, Y, Z-axis.
Grey Scale Images: Such effects would make the Hologram surface appear similar to etched effects for clear information.
Text/image in-depth: The text and image would be placed in multiple depths in multiple layers
How holograms can prove helpful?
To date, holograms remain the best possible products available for authentication and product security in the form of a seal. These are virtually not possible to copy through and technique and till date there isn't any case presented for an authentic and well designed and authentic hologram getting accurately copied. Production of a real hologram is quite a time consuming, expensive and requires technical expertise.
All conventional tools used by counterfeiters like scanners, cameras, digital and analog printing, color photocopiers, don't work well on holograms. The skills and equipment necessary for mass production and origination of holograms would be fairly hard for anyone. Counterfeiters always go for least resistance while moving towards target products and brands that don't require much effort to copy.
Also with holograms your products logo/symbol and name get an extra dimension. Self-adhesive and pressure-sensitive hologram label stickers are quite simple to use. These are tamper-proof and attempts to tamper holograms are easily recognizable.
Nowadays, these are the gold standard measures accepted across the world for combating duplication and counterfeiting. These offer authentication of products and get recognized easily through the naked eye irrespective of any type of lighting condition.
These have a quite unique appearance from hot-stamped foil sticker clones or printed labels. These can be served similarly to a higher security system for tracking. Sequential numbering on the hologram top is ideal for different purposes like inventory control and tracking of products.
Hidden and embedded hologram images would further establish any defensive evidence regarding negligent claims and defective products.
The Hologram label has helped more than 2500 genuine producers of FMCG's, pharmaceuticals, musicals, automotive, software, sports goods, educational institutions, and all other sectors in experiencing a manifold hike in sales while significantly reducing counterfeits in respective segments.